Hello
Hello!
I am Peter Blattner, one of the new Tabgha volunteers for the 2011-2012 year, and I will be trying to keep you all up to date on some of the exciting things happening in Tabgha and the Begegungstatte. It has been hard to say goodbye to the volunteers from last year, who taught me an incredible amount about Tabgha, the people who live and work here, and the guests who stay with us. They demonstrated the deep connection that is formed by working in such a fascinating and important place, and I can only hope that I will be able to bring as much to Tabgha as they did.
At the moment, we are hosting a summer camp from the Palestinian Medical Relief Society. One of the first things you should know about this group is that there were only two adults with the group. The children with the group are actually volunteers, and they do an incredible job helping to care for the handicapped members. Seeing young individuals take on such responsibility, and really rise to the challenge, is amazing.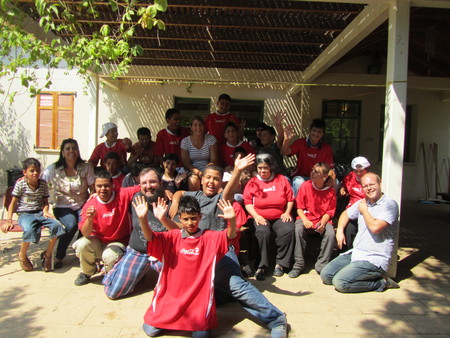 Us with the children We were given the opportunity (Paul let us take the afternoon off) to spend most of the afternoon and evening swimming in the pool, eating, and even having a dance party with the group, and it was hard to see them go.
The following group to arrive in Tabgha is also someone familiar to the place. Akram Ali Okkah will be arriving with his group for the physically disabled, and it was great to see him again. Akram's program emphasizes the importance of physical activity (he is also the head of the Palestinian Paralympics Committee) and integration with the surrounding communities. These words took on a lot more meaning when the delighted volunteers heard that the group would like to spend the morning working alongside as we clean up the pool!