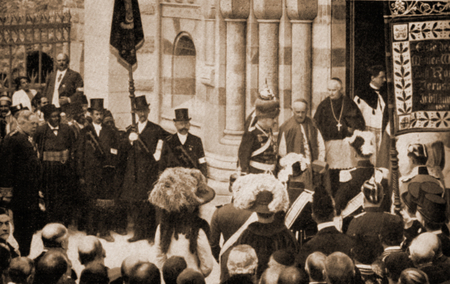 Dedication of the church 1910. During the time of office of the first Prior of Dormition, Cornelius Kniel OSB, the celebration of the dedication of the church was held on April 10, 1910 at the same time as the inauguration of the Auguste-Victoria Foundation on the Mount of Olives.
For this occasion, among the many hundreds of pilgrims, prominent ecclesiastical and political figures of the German empire travelled to Jerusalem.
The following years were marked by the inner development of the slowly growing community. The monasteries of the Beuronese Congregation sent from their ranks not only brothers to take over the daily tasks in the church, and the community, but also scientifically accomplished monks who were able to occupy themselves with the Sacred Scriptures, the archaeology and the history of the country. A small but select archaeological museum was the first fruit of the activity of our first brothers on Mount Zion.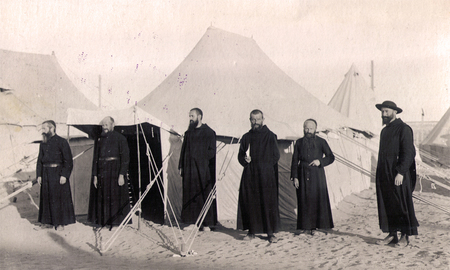 Sidi Bischr During the First World War, the change of rulers from the Ottomans to the British and the consequent results in the economy put the young community to a very hard test. The decoration of the church had hardly begun, when it was interrupted by the war. The brothers themselves had to leave the monastery in November 1918 and were interned by the British with many other clergy in the Egyptian camp Sidi Bischr near Alexandria. In March 1919 Benedictines from the Belgian Abbey of Maredsous came to Dormition "to keep vigil" for their German brethren. However, there developed diplomatic intrigues even involving the Holy See, because the Belgians wanted to keep Dormition.