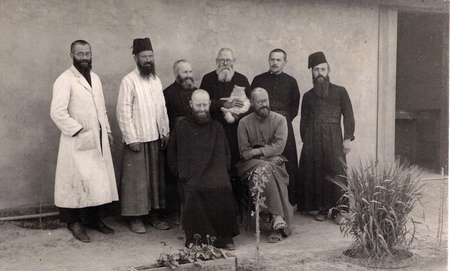 Our Farm in the Jordan valley. The so-called "Dormition affair" was finally resolved in favor of the German monks. The Belgian Benedictines left the monastery in July 1920 and the Latin Patriarch housed the Seminary for priests there for a short while until the end of January 1921 when the first German monks under their new superior, Maurus Kaufmann OSB, returned to Mount Zion.
The community found itself once again almost at the beginning - an experience that would be repeated again and again in its first hundred years.
Maurus Kaufmann dedicated himself again to the inner development of the community, to the decoration of the church and, with the direction and teaching in the Seminary of the Patriarch, willingly took over tasks in the local Church. In 1926 the monastery was made an abbey and Maurus Kaufmann was named its first abbot.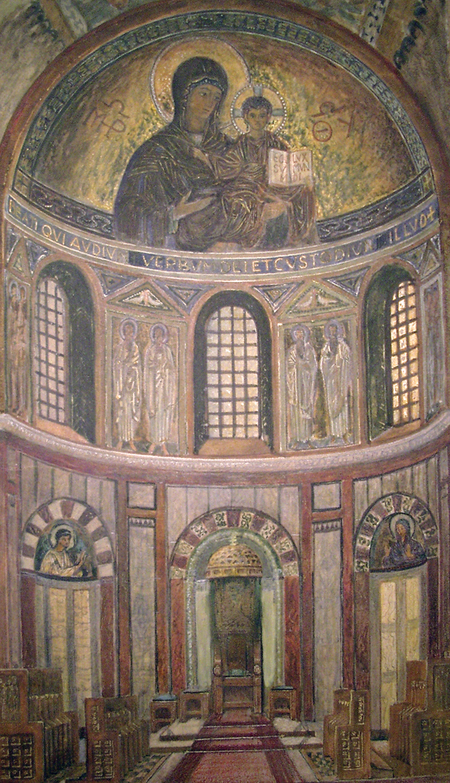 Original desgin for the apse of the church with marble and mosaics. In the following years the number of the brothers grew to sometimes more than 40. Important elements of the inner furnishing of the church occurred in these years: the apse mosaic and the large pavement mosaic of the upper church, several side altars and the figure of Mary in the crypt.
Our brothers lived and worked not only on Mount Zion in the care for pilgrims, in various crafts and as teachers in the seminary, but also on farms and agricultural estates. The farms in the Jordan valley, near Hebron and in the present area of Tel Aviv contributed to making the community more independent of donations from a Europe now in financial crisis. In the wartime disputes and through the creation of the State of Israel these properties were lost; only one piece of land in Bet-el near Ramallah remained from this period in the possession of our community.